Have you been dreaming of visiting the Maldives and beneficial time spending? Do you want to combine a pleasant holiday with leaving the comfort zone? Do you love swimming? Do you have three days off and don't know where to go? We think you're the lucky one, because the Legendary Swim team has the answer to all of your questions!
We can no longer wait for the first start of the season and the start of our third open water swimming from Dzharylgach island. There is no doubt: it will be spectacular! And if you are still hesitating with your decisions, let us convince you why we need to spend unforgettable days together on the picturesque shores of the Black Sea.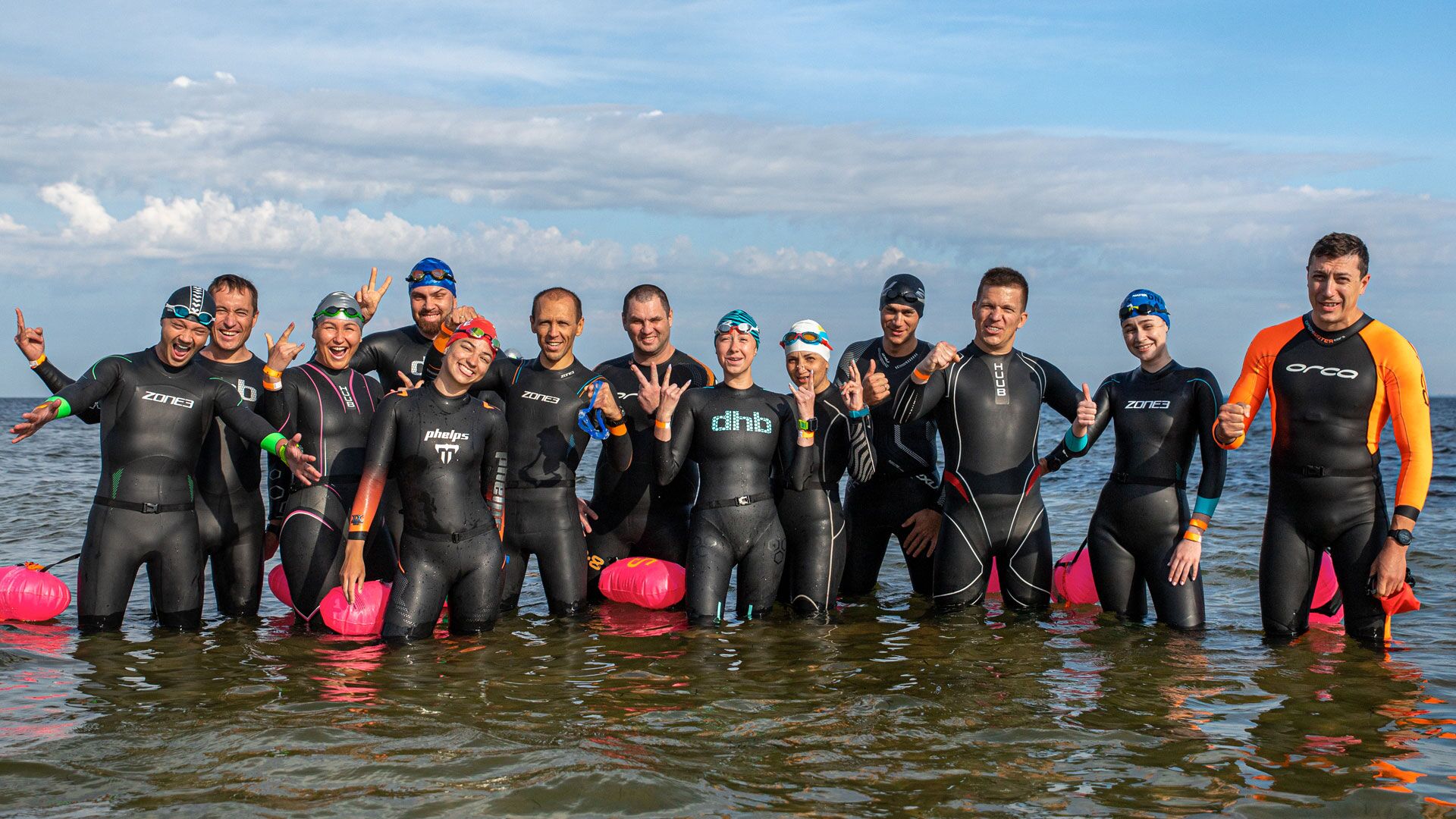 Reason 1: you'll swim among the best!
We offer you a rare chance to cross the bay. How often such an opportunity arises? This is exactly what happened, not to mention that Dzharylgach island is the largest in Ukraine and the most uninhabited in Europe. So there are enough records here, we just believe that we will be able to set new ones with you!
Every year about 250 participants take part in the swimming. Forget everything about the modern word "networking" - we understand that random people do not come to us, only self-confident, open and ready for adventure persons. You never know who you will meet and where. As a matter of fact, the quantitative advantage will only help to make swimming more competitive, interesting and emotional.
Reason 2: perfect weather and pure and nice water
There is actually a reason why we want to have a swim in mid-June. During this period the water temperature is optimal (22-24ºC). In addition, the race will take place in wetsuits, which will be your advantage in the fight against the water. Speaking of obstacles, our swimmers from 2020 will definitely remember the not-so-kind jellyfish during the swim. However, this is now history and one of the reasons why we moved swim race to the beginning of summer. The scariest monsters you will encounter will be just dolphins. But isn't it an additional advantage to take part in the race?! So don't worry, everything has been done for your maximum comfort and the best result.
Reason 3: a variety of races for newbies and pros
Maybe this is your first challenge and you are not ready for long distances yet? We offer you to choose a race of 2km, which will be more comfortable to do from Skadosvsk beach. Feel yourself ready to cross the bay from the island? You are free to choose 8km! Moreover we work hard to announce 2 more distances: 5km and 15km. Do you want to come with your family for support? Great plan! Believe me, they will not be bored at all. The shallow sea at the finish will allow them to feel fully in your team, waiting for their winner. And your kid may test herself on 500m race. You can even start your own family sports tradition. We will be happy if we become a part of it.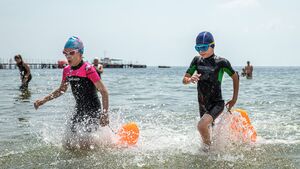 Reason 4: Dzha island and lighthouse
This is a masterpiece you should definitely see with your own eyes and take a photo on its background. By the way, getting to the lighthouse, as well as to the island itself will not be possible by car. Your trip will be on a boat or yacht… Romantic? Wait, you haven't even met the dawns and sunsets, which are breathtaking and dolphins who like to swim very close to shore. If you want to stay on island overnight, do not forget organic sweets (apples) for local fauna: boars and dears. They are also familiar with tourists so approach humans freely. So the resting can be different and to everyone's taste.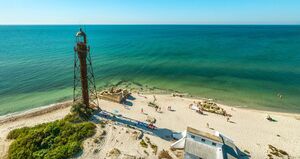 Reason 5: we are security-geeks
Let's be honest, but open water swim competitions contain elements of danger. We know and understand these risks, that is why about 15 boats, including the Marine Guard and the Water Police, will be watching the distance. We will do our best in protecting everyone, this task is one of the most important. There is nothing more valuable than a human life.
Reason 6: national park Askania-Nova
Did anyone say safari? You do not have to spend money on Africa, because in the Kherson region you can see the animal world in its beauty and more importantly, in the natural habitat. This phenomenon, of course, is impressive, so do not forget to bring a camera with you. By the way, the prices will be quite cheap. They are significantly different from the big cities with a plus sign! Therefore, all possible excursions (please, see below) will not be expensive, but you will get unforgettable emotions.

Address: street Parkova 15, town Askania-Nova, Chaplinsky district, Kherson region. ​​​​
GPS coordinates: 46.465900, 33.981700
Phone: +38 (099) 656 23 44 / +38 (066) 328 39 96
Web-site: askania-nova-zapovidnik.gov.ua
How to get there: from Skadovsk to Askania-Nova you can drive in 1 hour 40 minutes, there is an option to organize a transfer or arrange a group tour. It will all depend on the number and desires of the participants.
How much time to spend there: the tour in Askania-Nova takes no more than 3 hours.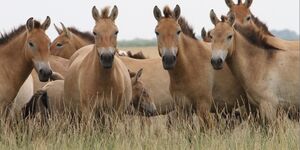 Reasob 7: pink Lemuria lake
Lake Lemuria attracts tourists with its beauty, especially with the pink color of water. This miracle of nature also contains healing properties that have a healing effect on the body. The mud of the island helps in the treatment of various diseases.

Address: village Hryhorivka, Chaplinsky district, Kherson region.
GPS coordinates: 46.2415854161517, 33.73648417785704
How to get there: the distance from Skadovsk to the village Hryhorivka is about 1,5 hours. It is best to rent a car or a bus for a larger company.
How much time to spend there: it is optional to you, but at least an hour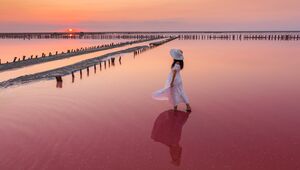 Reason 8: Prince Trubetskoy winery
By the way, you can also strengthen your body in the winery of Prince Trubetskoy. If you are not familiar with wine tourism, this place is the best start. Prince Trubetsky's plant has been producing wine products using traditional technologies throughout its existence. Therefore, as we have said, everyone can find a perfect way to rest.
Address: street Sviridova 3, Vesele village, Beryslav district, Kherson region. ​​​
GPS coordinates: 46.792306553746045, 33.36371476048988
Phone: +38 (050) 878 47 38
Web-site: vina-trubetskogo.com.ua
How to get there: from Skadovsk you can get there in 1,5 hours by car, towards Kherson
How much time to spend there: excursion with tasting lasts 2 hours; one of the features of this place is a hotel in the area where you can stay and relax.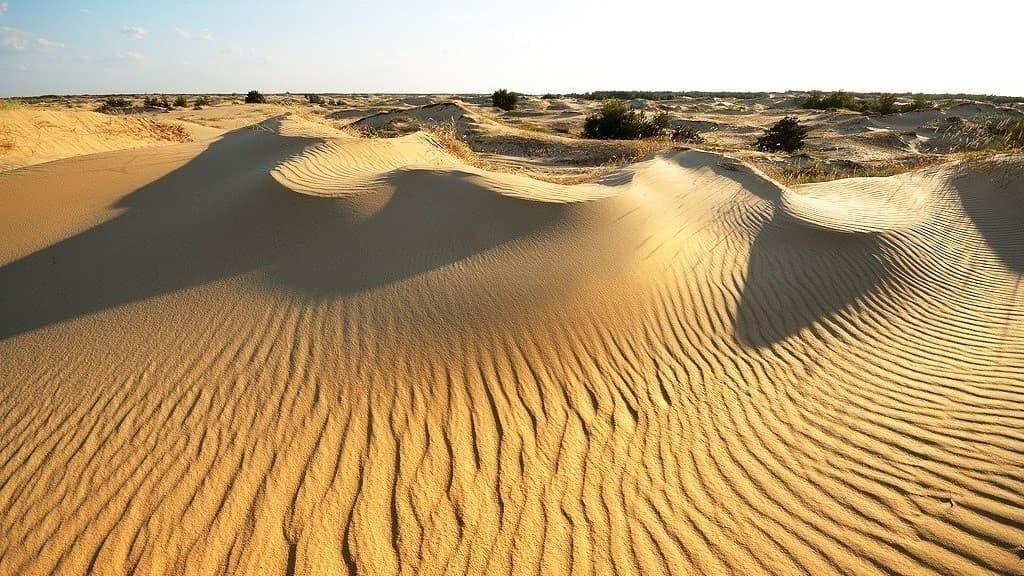 Reason 9: Oleshky desert
One of the largest sand massifs in Europe, where man feels like a grain of sand in the boundless universe. Interested? Oleshkivska desert was formed on the site of the former Dnipro riverbed due to grazing of sheep in the XIX century, which destroyed the grass and released the sand. Before you visit this deserted place, make sure you are well prepared, that is why water and a hat are your main helpers there.
Address: street Rakitny 16, city Oleshky, Oleshky district, Kherson region.
GPS coordinates: 46.56706023204464, 32.95494827671591
Phone: +380 (5542) 4-57-22
Website: nppop.gov.ua
How to get there: from Skadovsk you can get there in 1,5 hours by car.
How much time to spend there: the tour lasts at least 2 hours.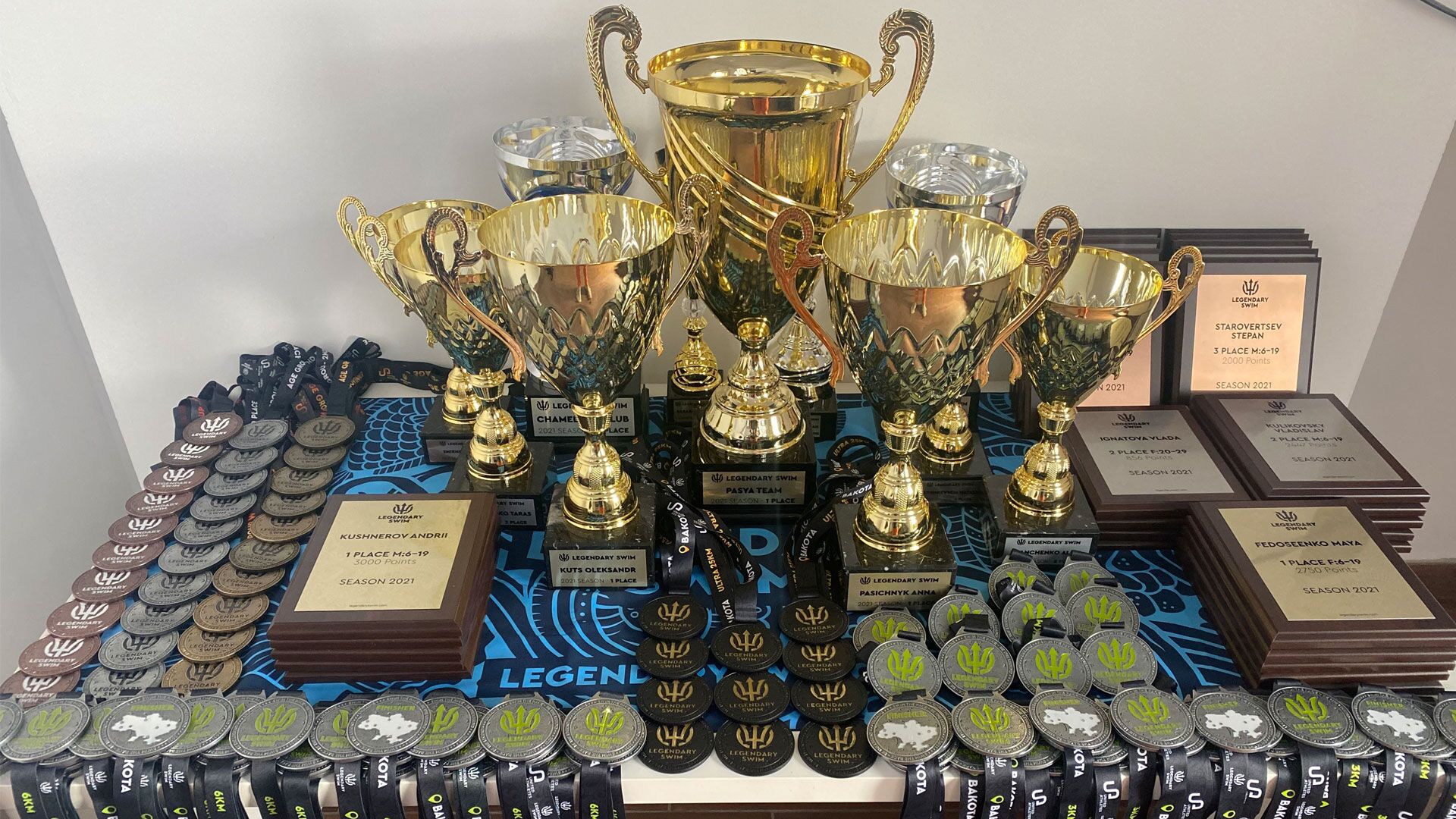 Reason 10: Legendary Swim Series participation
If everything that we have listed above is still not enough for your final decision, here is the last one. It will be liked by those who enjoy traveling in Ukraine and by those who respond to any challenge with a smile; those who swim not only for fun; those who are ready to tear their shirts for their swimming club.
Of course, this is the Legendary Swim Series! The league, in addition to swimming in Dzharylgach Bay, includes 3 more races in picturesque places of Ukraine: Bakota, Bukovel, Svyatogorsk. In each of these swims, participants score points depending on the result. At the end of the season, participants rank individually and in team rankings based on the season results. In the individual they compete for places in the age and PRO categories, and in the team they lead their club to victory according to the results of the season.
You can read more about the Legendary Swim Series here, but we must say that this is the most interesting series of swims for amateurs in Ukraine!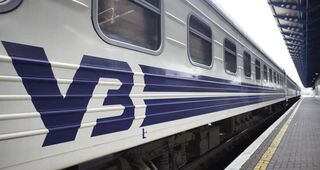 Reason 11 (bonus): easy and comfortable logistics
From time to time we hear that it is difficult to get to Skadovsk. We want to assure you that this is a myth. We will not go into details about why people say so. In our opinion, the road to Skadovsk is a real trip that can be much more fun than a flight to Italy on Oceanman Lago D'Orta. The road to Skadovsk can take 6-12 hours, depending on the city you are leaving from.

And although the road through Kherson from Odessa, Kyiv, Kharkiv, Dnipro and Lviv is usually of good quality (and now is being repaired in many areas), it will take a lot of energy. Therefore, we recommend you to leave in advance to have one day off before the start. But if you choose the air or the railway, everything can be much easier and more enjoyable. First you need to get to Kherson, and from there (and back) we will arrange a convenient transfer to the starting point. You can get to Kherson by plane (the construction of a new runway is planned to be completed in January 2022 and even begins to fly with Ryanair). The cost of a one-way flight is between 500 to 700 hrn.
Or you can choose a train. And although such logistics will take more time, it can be quite romantic if you travel with family or team. If you have not yet imagined a full train car of teammates singing and moving from compartment to compartment, write to us and we will help to book the whole car train for your team. The cost of a ticket to Kherson is between 300 to 700 hrn. By the way, the prices in Skadovsk are significantly different from the prices in Odessa, so the cost of a week's vacation in Skadovsk will cost you like a weekend at a popular resort.
 

We hope we were able to persuade you to join us and a few hundred other swimmers from Dzha Island. You should be with us at least to see why this place is  called the Ukrainian Maldives. It is also believed that the first Olympic Games were held here where Achilles trained. This legend was told by the ancient historians Herodotus and Ptolemy, but we are writing the story of today with you. Sign up for Legendary Swim Dzharylgach and become a part of Legend!