To use the individual MyLaps chip correctly and get the correct result, please follow the following rules:
Secure the chip on the ankle with Velcro and do not remove it until the end of the entire distance (if necessary - apply Vaseline on the ankle, it will not affect the chip or timing).
Hand over your chip to volunteers or judges in the finish area after the competition
Notify the organizer of the decision to stop the distance at any of its stages, notifying the judges or marshals and hand over your chip
Report the loss of the chip during the distance of the official representative (judge) responsible for timing immediately after crossing the finish line (loss of the chip entails the imposition of a fine).
The chip is issued together with the starter pack when registering at the start. The chip may not match your starting number, this is perfectly normal, these are not interconnected numbers.
In the relay, if one chip per team is used. We recommend to agree with other participants to reduce team time and convenience - to help you remove and put a chip on team members at the finish. Be careful, to account for time, you must cross the reading line, and change the chip, just outside it after crossing it.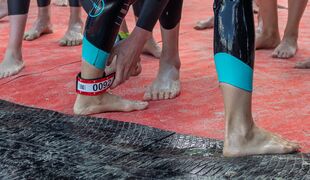 We ask you to pay attention to the above rules, as if you do not follow them, your result may not be credited. The starting number / chip issued to you is valid only for the distance for which you registered. Attempting to take part in another distance will disqualify the participant.