Register
Route
Rules
Participants
Results
Swim in Bakota - the national miracle of Ukraine
In 2021, a swim in the Bakota Bay was a revelation for most participants. And this is not surprising, because Bakota is one of the most promising tourist destinations in Ukraine. In 2022 the swim will be held here for the second time. It is located on the "Podilski Tovtry" National Nature Park and Staroushytsia community territory and has a very rich history. The bay was formed after the launch of the Novodnistrovsk hydroelectric power station due to the flooding of the valley, where dozens of villages once stood. And even earlier, one of the oldest monasteries in Europe was founded here. In July, the weather here will be perfectly warm for swimming in open and clear water.
The starting location is built on an observation deck, which offers an extraordinary view. Some of the participants who will pass the qualification will start on the longest distance - 25 km, from the hotel "Ksenia" to "Belogorsky beach". But the mass starts will take place at 6 and 3 km. During the event, participants and guests will enjoy a tasting of local products and an entertainment program that will include air balloon flying.
Total3 distances
Already registered141 participants
Together will overcome817 km
Finisher medal
A part of the Legend, that might be taken home
T-shirt
Shouts for your achievement inside the crowd
Swimming cap
Stand out and recognize you "tribe"
Sports bag
Speaks for your achievements inside the locker room
Medical insurance
Every participant is insured
Medics
Medical support during event
Buoy
Personal buoy for the race (returnable)
Transfer
Shuttle between starting and registration points
Nutrition
Meal after finish and food-support on the Legend distance
Facilities
Access to WC, storage-, locker-room, etc
2021 race video
Bakota is a flooded village. The name itself is first mentioned in chronicles of the thirteenth century as the capital of the Ponizzya. However, the number of pagan sanctuaries, temples and mounds indicates that this region was densely populated since prehistoric times. Also here are the remains of a rock monastery, which was destroyed by the Tatars, and the monks are buried alive in caves. The history of Bakota ended in 1981, because after the construction of the hydroelectric power plant, the residents were evicted to nearby villages, and the already buried underwater estates were literally dismantled to the last stone ... Last year in Bakota, the Legendary Swim race took place for the first time. Then about two hundred participants started here at distances of 3 and 6 km and 11 people at distances of 25 km. Most of them have never been to Bakota, and about a quarter have not even heard of this location. This time we will gather even more swimming enthusiasts and write a new page of the Bakota Legend together!
Start Information
ULTRA 25KM
HERO 6KM
SPRINT 3KM
Distance: 25KM
Water temperature: 23°C
Current: no current
Minimum age of the participant: 18 years
Time limit: 10:00:00
Not compatible with distances: 6KM, 3KM
Legendary Swim Series points: 110 - 1100
Distance: 6KM
Water temperature: 23°C
Minimum age of the participant: 16 years
Time limit: 3:00:00
Not compatible with distance: 3KM, 25KM
Legendary Swim Series points: 85 - 850
Distance: 3KM
Water temperature: 23°C
Minimum age of the participant: 12 years
Time limit: 1:30:00
Not compatible with distance: 6KM, 25KM
Legendary Swim Series points: 70 - 700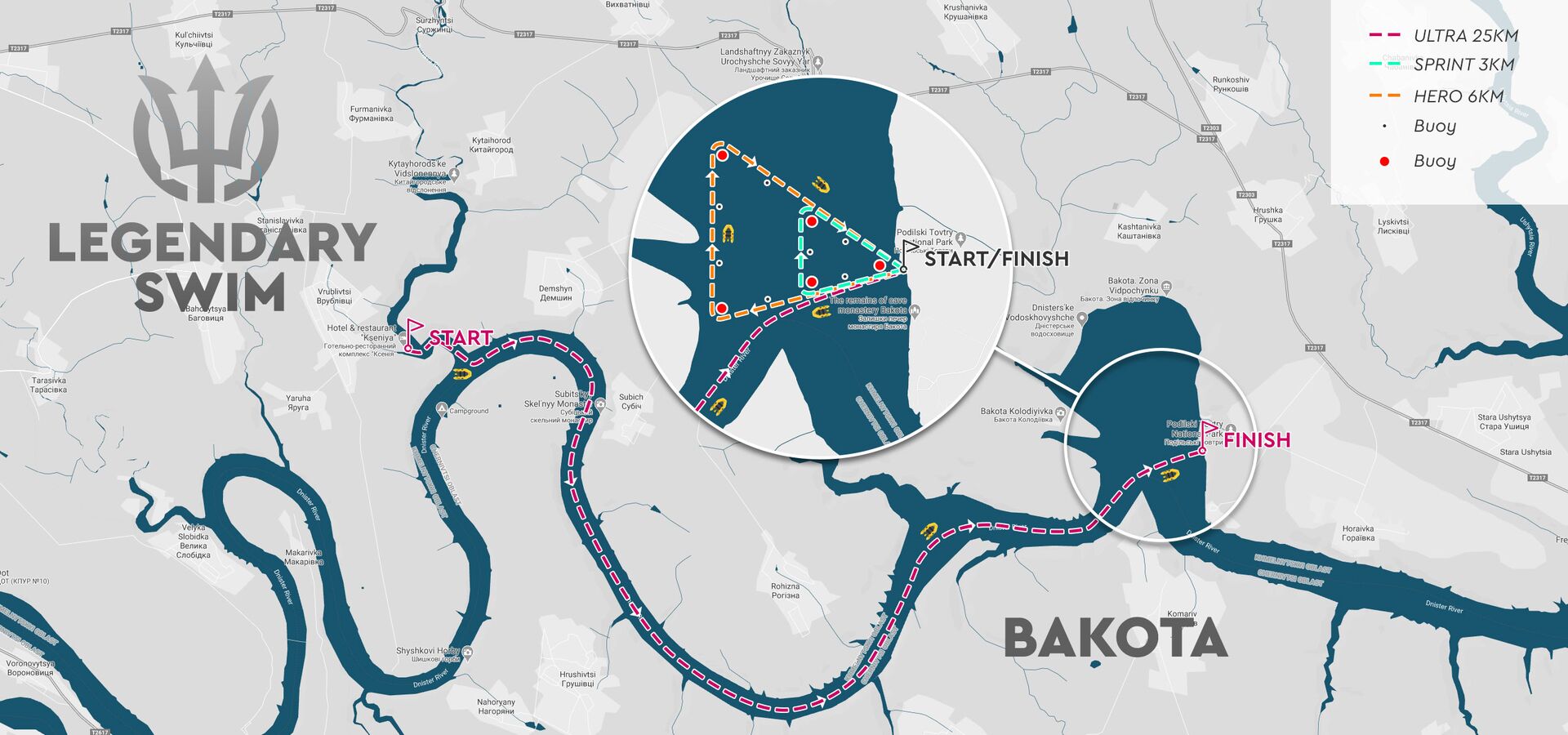 Preliminary agenda
21:00
Registration finish
07:00
Registration start (SPRINT, HERO)
Additional information
Location
How to get there?
Сoordinates: 48.58608422683303, 27.001465715878112
Warning! Do not confuse Bakota Bay with the village of Bakota in Ternopil region.
By Car: build a route to the starting location. Please note that there are currently road problems in the region, but they are being actively reconstructed. It is best to build a route through Kamianets-Podilskyi.
By Train: from Kyiv to Kamianets-Podilskyi, and then by bus to Starta Ushytsia or by organized transfer to the starting point. However, we advise you to stay in the vicinity of Staraya Ushitsa. Delivery will be organized from this village.
769 "Kyiv - Kamyanets-Podilsky", 118 K "Chernihiv - Chernivtsi", 139 K "Kyiv - Kamyanets-Podilsky".
From Odessa, Kharkiv, Lviv and Dnipro it is better to get to Vinnytsia or Khmelnytsky, and then - to Kamyanets-Podilsky by public transport.
Our partners