Route
Rules
Participants
Results
Rewarding the league finalists and fan elimination swim
Event canceled - more information

Together with you, we spent a fantastically busy season of open water competitions. It's time to sum up its results and award the league finalists in team and individual competitions. However, to combine the useful with the pleasant, we invite you to take part in the fan elimination swim, or - Deathmatch. The swim consists of 11 stages, in each of which some participants will be eliminated until there are only 6 strongest: 3 men and 3 women. Be careful and plan your strategy in advance. The competition will be held in Kiev, on Lake Nebrezh, and it will be the fastest registration in history, at least in our series. Start date - September 18. There is little time left, and we have done everything you can to register faster: the minimum cost and only 100 slots. Those of you who just want to join the award ceremony of the league finalists will be able to do so at no extra charge.
Participants swim 11 stages of 500 meters. After each stage, a certain number of participants drop out, until there are 3 strongest men and 3 women. It is a fun swim, but it is better to have tactics to participate in it.
Information about the event
COMPETITION RULES
STARTING PACKAGE
FINISHER MEDAL
Participants swim 11 stages of 500 meters with an Australian exit. After each stage, 10% of participants drop out of the initial number of participants of the same sex with rounding down (men and women separately). After the 10th stage, all are eliminated, except for the 3 strongest participants of each sex - 6 in total. If there are 3 participants of one sex left at stage 10 or earlier, they skip all stages up to 11. That is, they wait until there are 3 participants of the other sex. In the last stage, participants compete for places in the absolute
Rest between stages:
After the finish of the last participant of the stage is given 1 minute of rest. Those participants who finished first wait on the shore until the last participant of the next stage finishes + 1 minute.
It is forbidden to use:
Flippers, balls, tubes, blades
Headphones and any means of communication with the coach, etc.
Wetsuits at a water temperature of 24°C and above
The coach enters the starting corridor
Allowed:
Consult with a coach while in the hallway
The use of wetsuits at temperatures up to 24°C
Swimming features:
The start is general
Manual timing without fixing individual time
Australian exit (exit ashore after each lap)
Rewards:
The first 3 places in the absolute are awarded cups
Age restrictions:
The minimum age for participation is 14 years inclusive
League points:
League points are not awarded for this swim
Finisher's medal. Only for the first 100 registered
Insurance
Water and food at the finish
A portion of kebabs can be ordered at an additional cost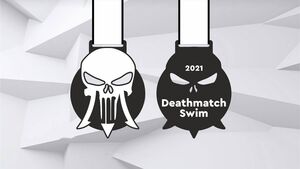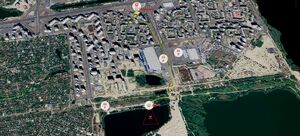 General Info
Starting point geolocation: Google maps
By car - to the parking lot of Epicenter (Grigorenko Avenue, 40): parking. From the parking lot - go to the starting point (see above)
By public transport: to Pozniaky, and then - 20 minutes on foot (1.5 km) to the starting point (see above)